Portable air conditioners are more affordable cooling options compared to traditional window air conditioners, mini-splits, or central air conditioning systems. Do you have central AC and want to save on your energy bill? Of course you do! Set your central AC at a higher temperature setting and use a portable air conditioner to cool the rooms you use the most. For example, you don't need to keep your whole home cool at night with the central ac, when you can use a portable air conditioner in your bedroom! This gives not only your central AC a break, but also your wallet! 
To learn more about lowering your energy costs with a portable air conditioner, check out this article by Sylvane!
The setup for portable air conditioners is so simple and easy, you can do it yourself! Most portable air conditioners include a vent hose and window kit so you don't have to call a professional or HVAC technician! 
These air conditioners work by exhausting the hot air in your space outside through a vent hose, so all you need is a window for setup!
Compared to traditional window air conditioners, portable air conditioners do not require any screwing into place or heavy-lifting since they do not hang outside a window. Since no invasive installation is required, portable air conditioners are a popular choice for apartments or spaces where you will be temporarily residing, no hassle of permanent fixtures!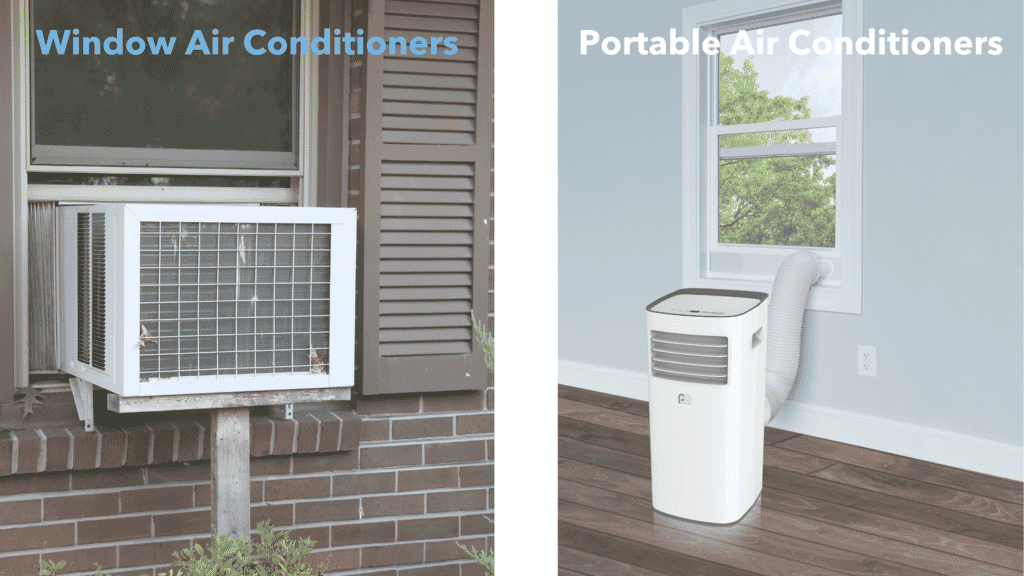 Portable air conditioners or spot coolers generally include easy roll casters or wheels so you can effortlessly glide them wherever you need extra cooling! This gives you the flexibility to cool different rooms or spaces throughout the day.
In addition, if you have an on-the-go lifestyle where you travel by RV, trailer, or other recreational vehicle, a portable air conditioner can also be a great option for you!
One of the unique offerings of portable air conditioners is their versatility throughout each season. The Perfect Aire portable air conditioners include 3-in-1 technology with cooling, dehumidifying, and a fan-only option! 
Many apartment buildings or living spaces do not allow the installation of window air conditioners. Spot coolers or portable air conditioners are great alternatives without invasive setup or equipment protruding through a window!