Who We Are
Feel-Good Service Since 2009
To us, comfort is personal. It's the air we breathe. The relief we feel—from summer to winter, at home, at work and at play. We're right there with you.
What Our Customers Are Saying
This little work-horse really helped me out when I was on vacation. This humidifier was small and light enough to pack easily. I used a 23.7 oz bottle of spring water and it lasted all night. I will always bring this along when I travel to combat the very dry air in the hotel room. I highly recommend this product.
Works like a champ!
Amazon, PAU1
What Our Customers Are Saying
Super quiet and very efficient. We are very satisfied!
Update —— SO satisfied got another one!
Five Stars
Amazon, Verified Purchaser
What Our Customers Are Saying
I had seen this humidifier on display in the store & was amazed by the fact that it had everything I was looking for. Most importantly, it is so quiet compared to my other humidifier. It has a sharp appearance. Great for cold winters here in Michigan, allergies, sinuses & colds. Highly recommended.
EXCELLENT BUY
Ace Hardware, Tina J, PAU13
What We Stand For
A Comfortable Experience
Quality care is everything to us. That's why we partner with you to find the right solution for your space. We've got your back with innovative products that are stylish, efficient, easy to use and designed to deliver.
Quality Care
You're our customer, we've got your back.
Relationship Building
You expect more, we're your no-hassle partner.
Modern Solutions
You want a product designed to deliver, we provide stylish, efficient, easy-to-use options.
From The Start
You At The Center
Founded in 2009, we've grown by leaps and bounds, but what we stand for remains the same: top-notch service and support. As a privately-owned company, we have the flexibility to put our plans into action to thoughtfully respond to customer requests, streamline the buying process and deliver the latest technology to you.
What We Do
A Perfect Mix Of Performance And Efficiency
Serving both residential and commercial markets as a manufacturer and supplier, we connect customers with the products they need, delivered direct and  on time—plain and simple. So you're never left out in the cold.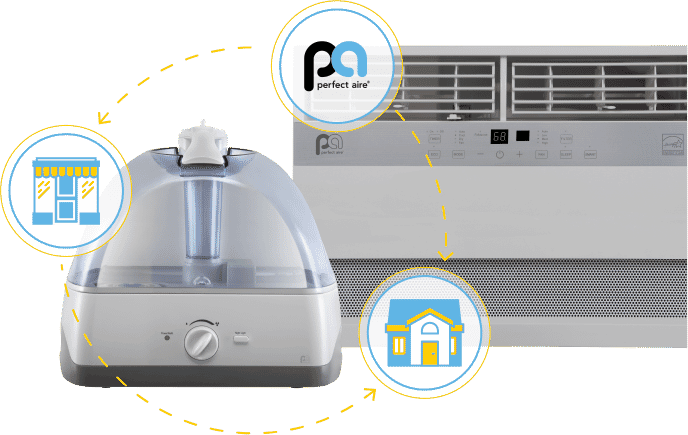 Comfort That Is Built To Last
At Perfect Aire, We Make
Life More Comfortable.