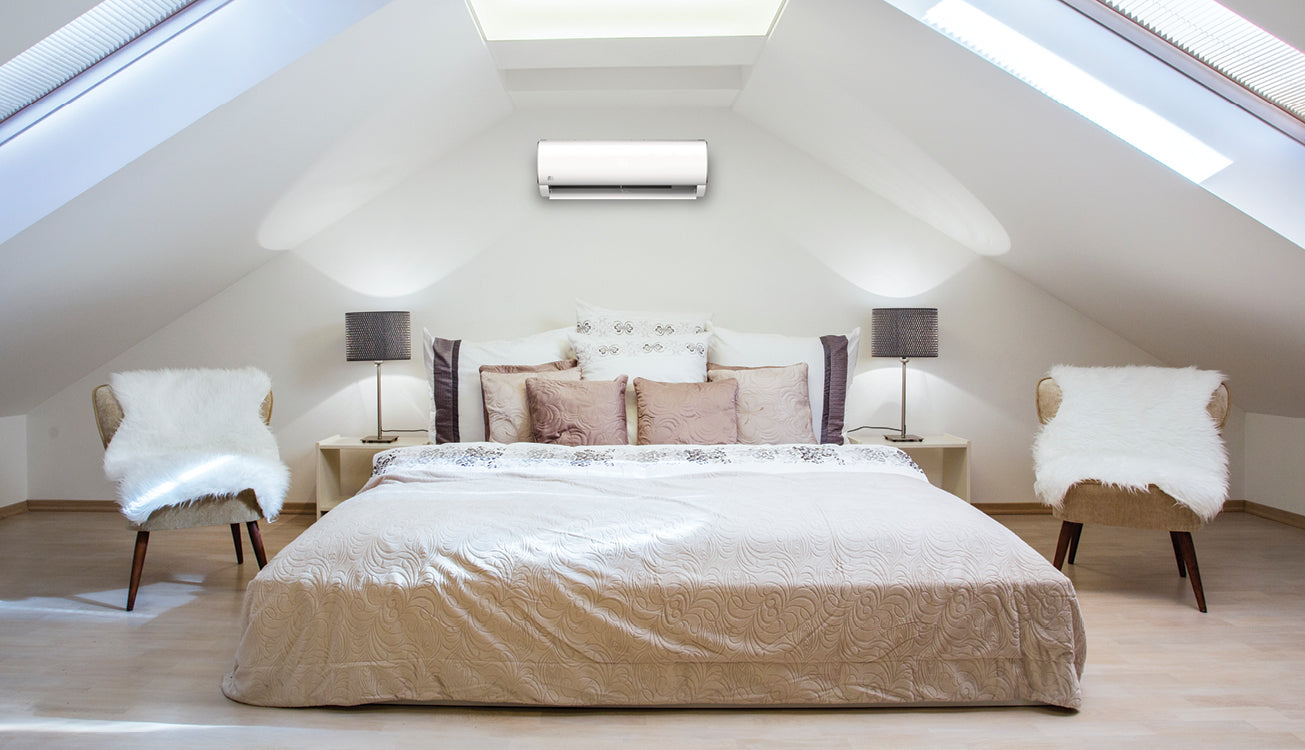 Back to Basics: What's a Mini-Split Air Conditioning System?
Sunroom a little too warm? Master bedroom with a vaulted ceiling keeping you shivering in the winter and sweating in the summer? If so, you may know the battle over finding a comfortable temperature while dealing with the limits of a central air conditioning system. When central air conditioning just isn't cutting it, a mini-split may be the perfect solution for you to customize your climate, and fix all your AC woes.
So… What's a mini split?
Basically, a mini-split, or ductless mini-split, are heating and cooling systems that allow for the ability to control temperatures and climates in individual rooms and spaces.
They're perfect for a ton of potential situations from residential, to light commercial and institutional. Mini-splits are the best solution for reaching independent climate control in a single space, or for multiple spaces (think: three rooms all with different temperatures… now everyone can control the thermostat!).
Similar to the central ducted systems most people are familiar with, mini-splits have two main components: the outdoor compressor/condensing unit and indoor air-handling (evaporator) units.
There are four types of mini-splits available, single-zone, HyperHeat single-zone, pre-charged single-zone, and multi-zone. All systems can effectively heat or cool single spaces, while a multi-zone system can serve as many as 5 "zones" (rooms) at a time from a single outdoor condenser.
All Perfect Aire minis-splits include a heat pump for cold days, but for places with colder climates or harsher winters, HyperHeat mini-splits are the perfect solution. These special mini-splits can operate in temperatures down to -22° — making them perfect for northern regions of North America or places with high elevation.
Pre-charged mini-splits, or quick connect systems, are perfect for do-it-yourself type people looking for a rewarding weekend project, as the pre-charged line sets eliminate the need to work with a refrigerant (Note: licensed professionals should be the only people to handle refrigerants). Aside from these quick connect units, mini-splits must be installed by a trained or certified installer, per local code.
Why should I consider choosing a mini-split?
They're great for difficult or unique air conditioning needs.
Mini-split systems are highly customizable and offer flexibility for the heating or cooling of individual spaces, not just the entire house at once. A mini-split can serve up to five zones from one condenser, each indoor air handler having its own thermostat, offering the ability to heat or cool spaces only when occupied, saving significant money and energy over time. They also can fit into any pre-existing space, like an old Victorian that may not be able to have ducts added and are great for people downsizing to tiny homes where every inch of space is valuable. No ducts, no problem!
Mini-split systems are much more energy efficient than a central air conditioning system, as they avoid much of the energy losses associated with the ductwork in a central system.
According to the U.S. Department of Energy, duct losses can account for up to 30% of energy consumption in space heating and cooling. To top it off, an inverter compressor on a mini-split system, instead of a rotary compressor, can save even more energy by using only enough power to reach and maintain the desired set temperature, and then idling until more power is needed. Talk about efficiency!
Air handlers are highly customizable, offering users the ability to choose an evaporator based on their space's needs and their overall style.
Perfect Aire offers high wall, floor & ceiling, console, ducted, and ceiling cassette evaporators for a variety of multi-zone system applications.
Room temperatures can be tailored toward everyone's individual needs.
With central air conditioning, individual spaces cannot be temperature controlled, with mini-splits every space can have its own climate. Baby's room needs to stay a little toasty, while the sunroom needs to cool off? Not an issue for a mini-split!
Worried about indoor air quality?
Mini-splits are your best option. Air ducts need to be professionally cleaned every one to three years, or more often if someone in the family has special medical conditions like asthma and allergies. This cleaning alone can be expensive but throw in the monthly cost of central AC filters, and central AC maintenance can start adding up over time. Mini-splits on the other hand don't have ducts that can accumulate dust and other allergens and have reusable filters that can be washed and placed right back into the unit.
When are the best times to install a ductless mini-split system?
A house with no existing ductwork
New additions like sunrooms, garages, apartments, bonus rooms, etc.
Tiny houses
Serving multiple people's climate needs under one roof
Giving supplemental support to a room with specific HVAC problems
Downsizing efforts for larger homes
Where can I use a ductless mini-split?
Mini-splits can be useful in any situation, especially:
Residential housing: newly constructed homes, multi-family dwellings, "non-ducted" housing, retro-fitted projects/add-ons, apartment buildings
Light Commercial: Warehouses, manufacturing facility offices, mechanical rooms, IT equipment rooms, data centers
Institutional: hospitals, schools, assisted living facilities, government offices
Check out how the Rasmussen family's health and indoor air quality improved with the addition of a Perfect Aire mini-split system!