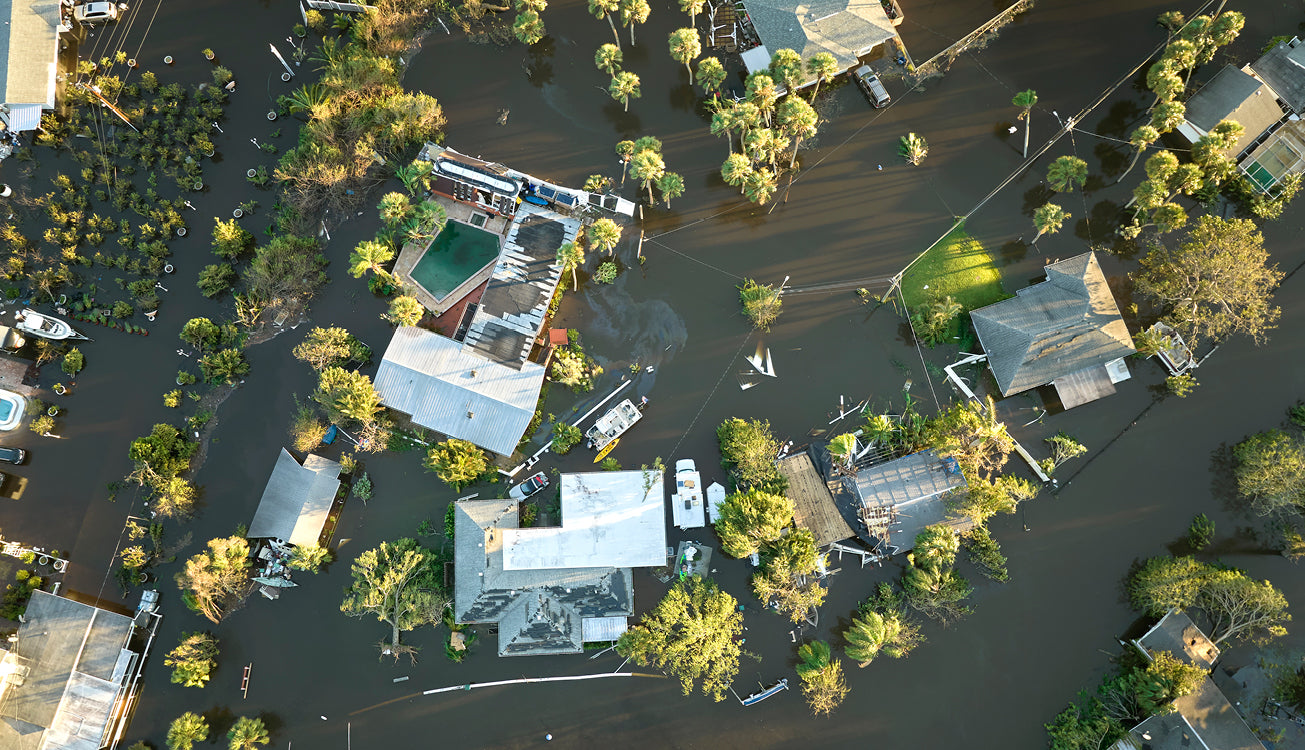 Handling Floods and Hurricanes: From Pre-Planning to Cleanup
For the nearly 30% of Americans, or 94 million people, that live on or near the coast, events like hurricanes and floods are a reality that can be expensive and time-consuming to prepare for and deal with. Hurricane season runs similarly on the Pacific and Atlantic, with the Atlantic seeing hurricane activity starting in June and the Pacific starting in mid-May, with both concluding at the end of November.
To stay on top of these unexpected disasters, we've compiled a list of everything you need to know to help prep for hurricanes or floods – from prepping all the way to cleaning up:
Prepping for a storm
Have an evacuation plan
Before the storm, it is good practice to know your local evacuation routes and have a plan for where you can stay in case you have to leave. If you do not need to evacuate, make sure to have enough food and bottled or jugged water in case of power outages and road closures
Minimize flying debris
Trim or remove dead or damaged trees and limbs, they can become loose and add to the flying debris that may start flying if winds become strong enough.
Secure and clear clogs from rain gutters and downspouts to help prevent water damage due to backup.
If your home has a carport, make sure the posts are well secured to the ground. If winds become strong enough, the port may become detached and cause further damage to the house.
Remove any freestanding objects from your yard like statues, flower pots, and furniture, and move them inside.
Good investments
If you're looking at renovating your home, consider making adjustments to your roof to make it more secure. If you're in the market to buy a new roof, make sure to seal your roof deck and add hurricane roof straps. These straps secure your roof to your walls using galvanized steel straps, helping keep your roof in place in winds up to 100 mph. If you're not looking to replace your roof, you might be able to add these straps to your roof by having a professional connect them to your attic.
Consider investing in a portable or backup generator in case of power outages. If you chose to do this, make sure your generator is at least 20 feet away from windows and doors and is protected from moisture. Do not, under any circumstance, power your house by plugging the generator into an interior wall outlet.
After the Storm: Inspect Your Home
When cleaning up from a flood or hurricane it's important to remember that your house will require heavy-duty cleaning that goes above and beyond normal cleaning practices. For safety, wear rubber or insulated footwear, long pants, long sleeves, rubber gloves, goggles, and an N-95 (or better) mask to protect yourself from bacteria, mold, and viruses that may be in the water.
Inspect the exterior
Upon return to your property, do not let your family rush back inside – you'll need to check for any damage on the exterior first. Do this by checking for loose or fallen power lines, damaged gas lines, cracks in the foundation, missing roof shingles, and un-secure trees. Make sure to take pictures of any exterior damage for insurance purposes.
Inspect the Interior
Do not enter a flooded space without ensuring that the electricity is turned off. Once confirmed, check for damage on the inside of your house using a flashlight. Do not use a candle to check your house for damage, in cases of gas leaks, the flame could accidentally ignite the gas causing fires.
For overturned items and utilities, the American Red Cross recommends using a wooden stick to turn over upended items and inspect electric wiring or appliances for damage from afar.
Cleanup After the Storm
Mold can grow in water-logged items (anything from furniture and carpet to small knickknacks) within 48 hours, so it is important to start your cleanup process as soon as possible. Start by opening all windows and turning on bathroom vents (when possible) to keep air circulating.
Any standing water will need to be removed before most cleaning can be done. In addition to water pumps removing water, you can use wet-to-dry vacuums or upholstery cleaners (without cleaning solutions) to extract water from hard surfaces such as concrete and sub-flooring, as well as soft services like carpet and upholstery. As safety is the primary concern during flood clean-up, make sure to avoid using machines that need electricity if standing water is more than half an inch.
Please note: do not pump water into the sewer system, instead pump water into your lawn or into storm water drain pipes. Water pumped into the already stressed sewer system will slow down your state's water treatment program.
Once the standing water is removed, your home will likely still be damp. Use a dehumidifier or portable air conditioner to help control and remove humidity in your home. Both of these units are great solutions for getting any lingering moisture out of floors, ceilings, and walls, and can also help eliminate some smells in your home.
Carpeting and Furniture
It is best to have removable carpets and rugs professionally laundered. In most cases, installed carpeting and padding that has been submerged in water won't be able to be cleaned adequately or thoroughly enough, and should be replaced. If only part of your carpeting was affected by flood water, use a wet-to-dry vacuum to remove as much water as possible. Then clean and rinse your carpeting using an extraction cleaner. Dehumidifiers and fans can speed up this process.
For solid wood furniture, remove any drawers or doors and allow them to dry outside. Make sure to thoroughly brush or wash dirty wood furniture using a well-rung washcloth, using a solution or mild soap and water, then rinse using clear water. Allow these pieces to fully dry outside, out of direct sunlight.
Upholstered furniture should be professionally cleaned. Water-damaged mattresses should be discarded and replaced.
Appliances
Call a professional service company to come to inspect the connections and components of your major appliances like refrigerators, ranges, and washers. For small compact appliances like toasters and tabletop microwaves, check for frayed or exposed wires that could make the unit unsafe before use.
When it comes to your refrigerator, if your fridge has not received electricity for over four hours, you will need to toss perishables like meat, dairy, and any leftovers. Freezer items will last longer – up to about 48 hours – if the freezer was full and remained closed the entire time. If your freezer was half full, you have about 24 hours before things go bad.
Clothing
For clothes and washable fabrics, treat with a prewash spray first and then wash in cool water using powder laundry detergent. The powder detergent is preferred for this as it will work well at removing clay and dirt that flood water could contain, while the cold water will keep stains from setting. Once your initial wash is complete, re-launder everything in the hottest water that is safe for your best-sleep-aids fabrics with powdered detergent and either chlorine or all-fabric bleach. Take non-home washable garments to the dry cleaner.
All in all…
Make sure to document any damage in your home and take thorough notes. If possible, take pictures and videos of your belonging before the storm and keep receipts. These documents will increase the chances of your insurance claims being accepted.
Remember: If you need help… get help! Young children and the elderly have sensitive immune systems and should not assist in cleanup plans. If there is a large amount of water damage, consider getting a professional team to help you clean. You can ask your homeowner's insurance company for recommendations on these services.
Likewise, people suffering from asthma, allergies, and other breathing problems may be sensitive to mold and have trouble helping with cleanup. If you are concerned about indoor air quality while cleaning, ask your doctor if it is safe to help with cleanup after a flood.