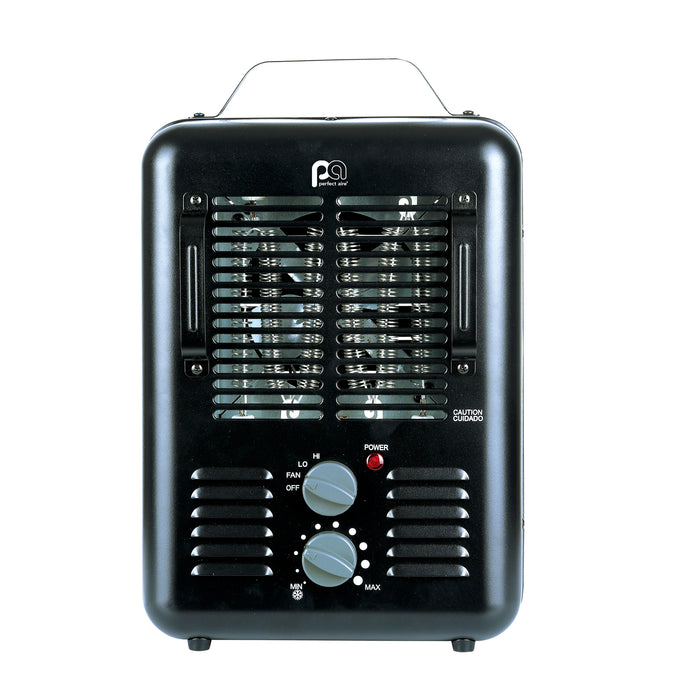 1500/1300W 14" Heavy-Duty Milkhouse Utility Heater with Fan-Only Mode and Anti-Freeze Function, Black
Is your workshop or garage feeling a little chilly? Need some extra heat in your living room? This portable heavy-duty electric utility heater from Perfect Aire is perfect for adding some extra heat wherever you need it. The 1PHF3P14 heater is ultra-easy to use and boasts two powerful heat settings that can be adjusted using the adjustable thermostat dial. Heat confidently knowing this heater has built-in safety features including overheat protection and a tip-over switch to protect against common mishaps and fire hazards. Need more reason to love this heater? It also features an anti-freeze function and an extra-long 6 ft. power cord. Just plug in and feel the warmth!
FEATURES

• 15000/1300W, 5,125 BTUs milkhouse fan-forced heater with 3-pronged power cord.

• Heavy-duty steel housing perfect for use in garages, sheds, workshops and other areas that need supplemental heat.

• 2 powerful heat settings (1500/1300W) with an adjustable thermostat dial provides for customized heat control.

• Safety tip-over switch can sense if the heater has fallen over and shuts it off automatically.

• Anti-freeze function keeps the unit from freezing in the harshest conditions.

• Overheat protection switch will turn the heater off if it gets too hot, preventing fire hazards.
SPECIFICATIONS

Heating Capacity (BTU): 5125

Coverage Area (sq. ft.): 160

Fan Speeds: 1

Heat Settings: 2
DIMENSIONS & WEIGHT

Unit Width (in.): 10.0

Unit Height (in.): 14.25

Unit Depth (in.): 7.25

Unit Weight (lb.): 5.0
ELECTRICAL REQUIREMENTS

Outlet Configuration: 15A-125V

Rated Heating Current (Amps): 12.5

Rated Heating Watts: 1500/1300

No-Hassle Comprehensive Product Warranty
1 Year Full Replacement Warranty