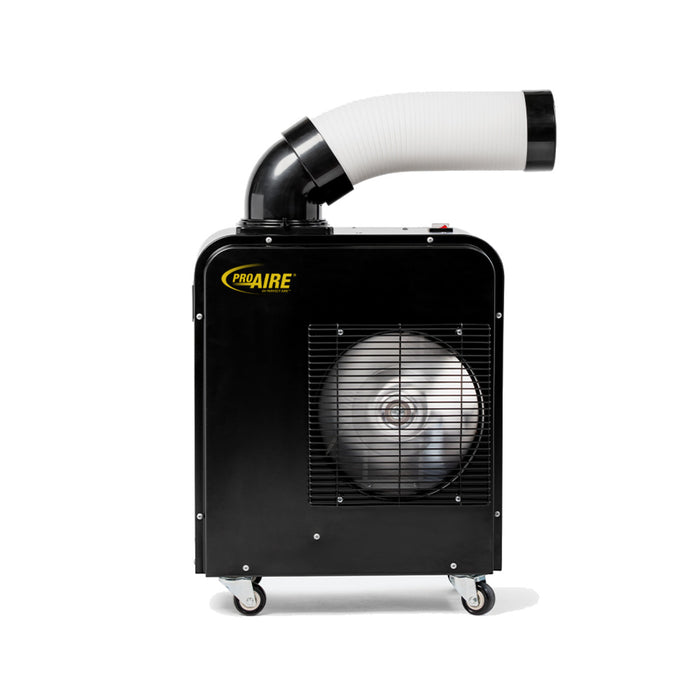 5,300 BTU Portable Indoor Outdoor Spot Cooler, No Installation Needed
The ProAire 5,300 BTU Portable Spot Cooler provides instant cooling to enhance your comfort and productivity, ideal for patios or decks, workshops, construction sites, woodworking shops, garages, and farms! Perfect for hot summer days with operation up to 109°F, the air conditioner works to reduce humidity and heat with the powerful internal exhaust fan. The 360-degree spinner wheels and adjustable blower allows the air conditioner to easily roll wherever needed throughout your space and to direct the cooling in whichever direction needed for easy portability and convenience. With 2 options for drainage, including an easy empty bucket and continuous drainage with a hose (included), the Spot Cooler was designed for ease. No installation required- just plug in and enjoy the cool air!
FEATURES

• 5300 BTU Professional series portable air conditioner- 1 Speed fan

• No installation required

• R410a refrigerant

• Compressor overload shut off protection

• Washable, reusable air filter

• 360 degree spinner wheels for easy portability

• Flexable hose directs cool air in any direction for immediate relief!

• Continuous drainage or easy empty bucket for water removal

• Water and dirt resistant power switch for those working on job sites

• IMPORTANT: To ensure the proper functioning of your new air conditioner, please allow the unit to stand in an upright for position for at least 24 hours before operating. If you do not sit your unit in the upright position for 24 hours before operation, this could seriously affect the capability of the compressor and ultimately the production of cold air.
SPECIFICATIONS

Cooling Capacity (BTU): 5300

Heating Capacity (BTU): N/A

Coverage Area (sq. ft.): N/A

Fan Speeds: 1

Smart Home Compatible: No
DIMENSIONS & WEIGHT

Unit Width (in.): 18.5

Unit Height (in.): 23.0

Unit Depth (in.): 11.5

Unit Weight (lb.): 56.25
ELECTRICAL REQUIREMENTS

Outlet Configuration: 15A-115V

No-Hassle Comprehensive Product Warranty
1 Year Full Replacement Warranty