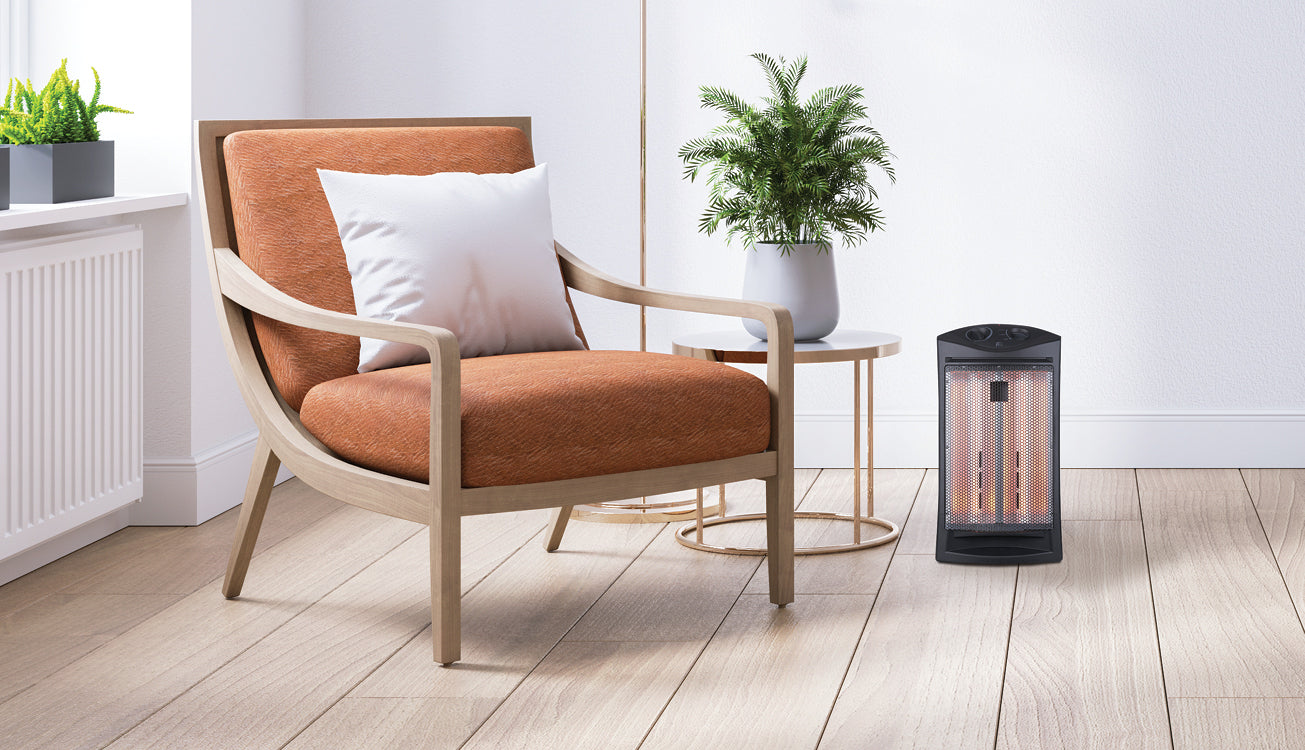 Answering the Internet's "Burning" Space Heater Questions
You asked. We answered. Read on to learn the internet's most asked questions about space heaters and how to safely operate them!
Before we answer the most asked questions about space heaters, it's important to know what a space heater is and what they are used for.
What is a Space Heater?
A space heater is a device used to provide supplemental heat in a single room. Space heaters are used for small spaces or rooms in residential areas such as a living room, bedroom, home office, studio apartment, and more. Space heaters are not meant to replace central heating in a home. Central heat is able to warm up many connected areas such as rooms throughout a house, while a space heater is for a small space. Space heaters are generally powered by electricity or a burnable fuel, such as natural gas, propane, fuel oil, or wood pellets. Perfect Aire's line of space heaters are all powered by electricity.
Do Space Heaters…?
We compiled a list of most asked questions about space heaters to answer below!
Do space heaters use a lot of electricity? Do space heaters save money?
Majority of space heaters use a maximum of 1500 watts of power to fully heat a room or space. According to Consumer Reports, "it would cost $2.82 a day to use a space heater 16 hours a day, based on the national average electricity rate". To figure out how much you'll spend using one 1,500-watt space heater, use this formula:
Multiply 1500W by X hours of use = A.
Multiply A by your electricity rate per kilowatt hour = B.
Divide B by 1000.
Remember, you shouldn't leave a space heater on while you sleep. Therefore, it is not recommended to have a space heater running for a full 24 hours.
Do space heaters save energy?
In terms of saving energy, if you would like heat in a single room or space, using a space heater is the most efficient choice rather than using central heating for your entire home. However, according to the Department of Energy, "using space heaters in every room as a way to replace your home's central heating system is much less efficient and can lead to paying more on your monthly electric bill".
If you are experiencing issues with the temperature of your entire home, you might need to look into more permanent heating options rather than portable heaters.
Do space heaters dry out the air?
Space heaters typically do not dry out the air in your room. However, when your space warms up or the temperature rises, this will cause the relative humidity to go down. In addition, the air might feel dryer because it can absorb more temperature from your skin. To learn more about space heaters and their impact on humidity, check out this article by Heater Tips. If you are facing issues with dry air in your home, you should check out Perfect Aire's line of humidifiers to bring moisture back into the air.
Do space heaters emit carbon monoxide?
Electric space heaters are safe to use in your home and do not emit carbon monoxide in the air. Check out Perfect Aire's line of electric space heaters to learn more! Portable heaters that use combustible fuels can be a threat for releasing carbon monoxide poisoning in your home. You should conduct your own research before purchasing a fuel-powered heater.
Do space heaters cause fires?
Unfortunately, space heaters can be a fire and safety hazard if not used properly. Therefore, when buying a space heater, make sure it includes in-built safety features to protect against a fire hazard. Perfect Aire's line of space heaters come equipped with numerous safety features: tip-over switch which will automatically shut off the heater if it is knocked over, auto-shut-off for if the heater overheats, and cool touch handles on select models where you can safely move the heater without burning yourself. For a full list of space heater safety tips check out our video!
Do space heaters work outside?
Some space heaters are made specifically for indoor residential use, and some space heaters are made for outdoor use. The Perfect Aire Heavy Duty Electric Utility Heater can be used outdoors or in any garage, shed, or workshop setting. In addition, this heater comes equipped with an anti-freeze feature which ensures that the heater will still run efficiently in cold temperatures. Also, the durable design of the heater is also made to withstand harsh weather conditions!
To learn more about the different types of space heaters and how to choose the perfect one for you, check out Space Heater Guide: How to Choose a Space Heater!